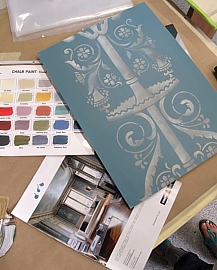 Furniture Stenciling is easy and fun!
Pattern and design can make a statement, set something apart, and make a statement. Sometimes all you need to revive a furniture piece is to "say it with a stencil"! Here you will find some furniture pieces transformed with some paint and stencil. Whether you are going for a modern, country, whimsical, or classic feel, a stencil can help you set the tone and turn a piece of furniture into a showpiece. Check out these examples of stenciled furniture.
Painting with stencils can be both fun and rewarding. To get a clean design, make sure to use a stencil brush with intricate designs, making sure to apply paint with your brush held at a 90 degree angle and with an up and down motion. Painter's tape to secure your stencils when working them can be key to preventing paint seeping underneath your design. Once you have tried painting with stencils, you will be hooked and the possibilities will be endless! Try a stencil on your next home decor project.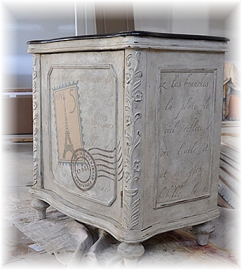 Stenciling is a quick and easy way of adding style to wooden furniture. The key is choosing the stenciling method that fits your piece best. Whether you want art deco or Pennsylvania Dutch, a drawing or a child's name, stencils are an almost foolproof way of decorating your furniture.
Stencils can be applied over any finish. They are easiest to work with when used over varnish that's still slightly tacky. When the surface to be decorated is completely dry, the stencil must be very carefully attached so that the edges of the design don't blur. Use paint for informal designs, bronze powder, gold, silver, bronze, copper, or colors for a more formal effect.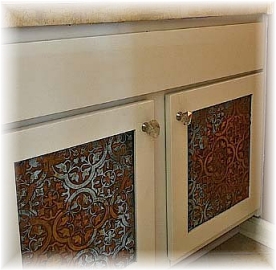 With furniture stencils you can transform garage sale furniture finds into beautiful decorative pieces. It doesn't end there: try stenciling lamp shades, kitchen backsplashes, doors, table tops, picture and mirror frames, or create your own work of art on pre-stretched canvas. Decorative possibilities are endless with versatile craft and furniture stencils!
This cabinet was treated with some faux rust patina for a more dramatic look.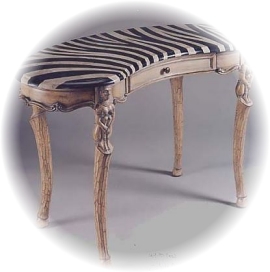 How to Paint Stripes on Furniture
Adding stripes is another quick and easy way to style and decorate wooden furniture. Painting edge stripes on enameled or antiqued furniture can add distinction to flat surfaces - use one thin border stripe or paint multiple stripes or geometric borders.
Tabletops, chair seats, and similar areas are good candidates for striping, but any flat surface can be decorated with stripes. Use high-gloss or semigloss enamel, slightly thinned; make sure it's compatible with the existing finish.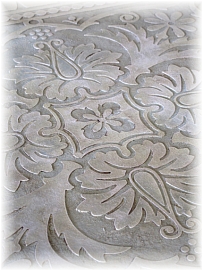 Don't Get Rid of Old Furniture - Redecorate!
Have you been wondering what to do with that ratty old dresser that's been collecting dust in the garage? Do you have furniture in your house that you inherited and just can't get rid of but can't find a fit for them in your house? Are you thinking of getting rid of that old rocking chair because it just doesn't fit in with the new decor?
Why not save yourself the hassle of throwing things out and then having to spend money to replace them? Breathe some new life in those old pieces by re-designing them with a little paint and some fresh new stenciling ideas.
The beauty of taking on a furniture painting project yourself is that you can match the theme of your space. And stencils help you get the images in place.

Dear guest don't forget to grab my 10% discount coupon for all types of wood carving
and furniture repair projects! Valid in Colorado Springs, Monument, Castle Rock, Castle Pines, Denver, Black Forest, Falcon, Fountain, Manitou Springs, Old Colorado City, also military discounts, senior discount.

Call to schedule a FREE on site estimate!