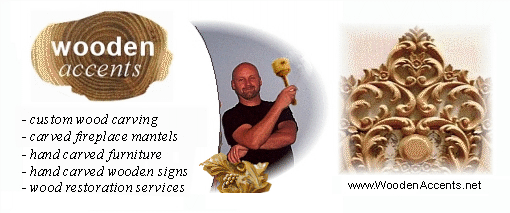 Hand Carved Wooden Mantels
The fireplace was long ago rendered obsolete as a primary home heating source, yet it remains a favorite gathering place. A flickering fire - wood or even gas - is a comfort, and an invitation to relax. But the hearth has also endured because of the wooden mantel that typically frames it. A mantel serves not only as an architectural anchor in a room but as a functional shelf on which to display prized possessions.
These are all real wood, hand cut, hand carved mantels.
If you are looking for corbels for your mantel shelf or as a support for for ceiling beams you may want to visit my
Corbel page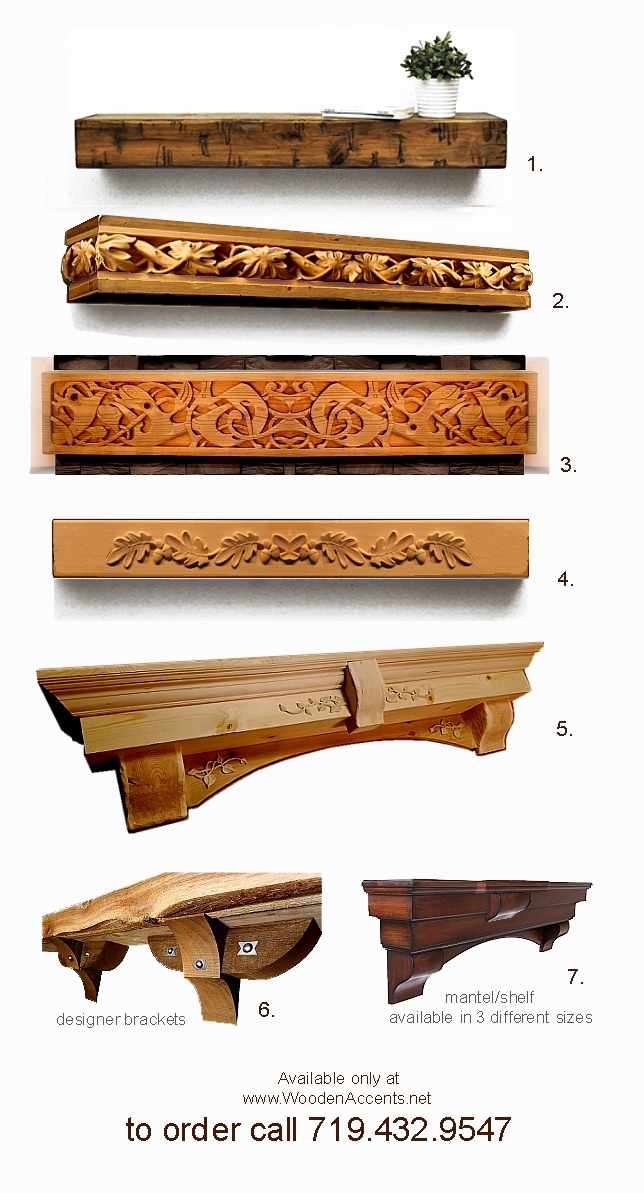 Most new homes come without fireplace mantels since there are usually added later to complement the furniture. Mantels come in a wide range of types and styles. "Carved" mantels are actually assembled from various solid moldings to form the intricate shapes. The large top molding is commonly called a cornice, or crown molding, which, along with other smaller moldings, casings, panels, and flutings, form a complete mantel. Decorative wood carvings are often attached to the front of the mantel, or the front panels may be carved or routed with designs or initials. Mantels may also be designed with legs to frame and provide a pleasing surround of the fireplace, and legs may be plain or fancy with edge detailing and fluting.
Presented below is a big mantel shelf that was my first mantel that I handcrafted and installed. Built as a custom order for my clients, Stephanie & Dave, the mantel was adorn with four pieces of carvings that I hand carved in my garage. It was also the first mantel that I've installed. The project was a success and was completed just on time, few hours before house warming party! Later I have carved and hung many more mantels and each time I enjoyed the whole process.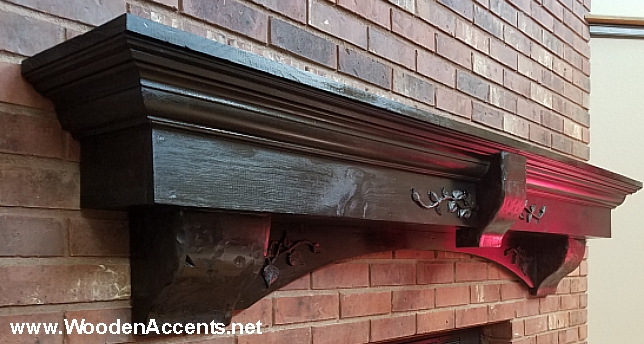 Mantel Decorating Tips
Your home's mantel should be a place to showcase your style year round, not just during the holiday season. Find below a few tips that will help you make it your favorite gathering place for years to come:
1. A mirror above your mantel can make the whole room feel bigger
2. Stick with neutrals that align generally with each season, unless of course you're going all out for Christmas!
3. Try hanging pictures above the mantel instead of placing them on it to maximize space
4. Use different textures and patterns to keep your mantel visually interesting
5. Don't forget to add a few unique pieces that can spark up conversation



Adding a mantel or shelf to your fireplace is an easy way to enhance the look and feel of your fireplace without giving it a complete makeover. These beautiful accessories are easy to install and fun to decorate & embellish. Choose from unfinished or prefinished mantel shelves in a wide range of sizes, colors, or finishes. Add a touch of class to a drab fireplace and get an instant fresh, new look for way less than it would cost to completely redo a worn out fireplace.


Here is another project in progress. This carved board with a molding will be installed over the existing drywall mantel shelf. I used two different types of wood here but these will be stained to match. The shelf will gain a lot of depth as the existing one is only 5" wide and it's hard to put anything on that skinny shelf. Once ready the shelf will be 9"-10" wide. I will post a picture once it's all done later next week.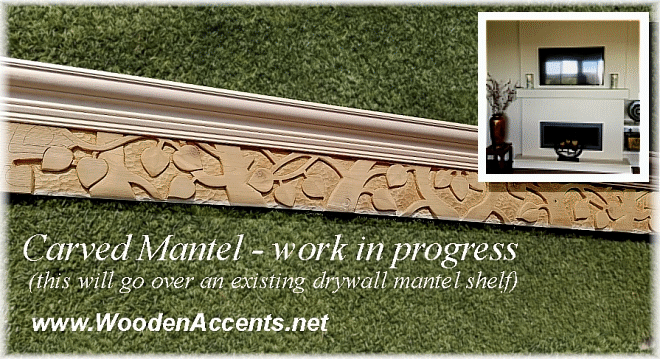 and here below is Edelweiss flower motif carved on mantel beam for a client in Aspen, CO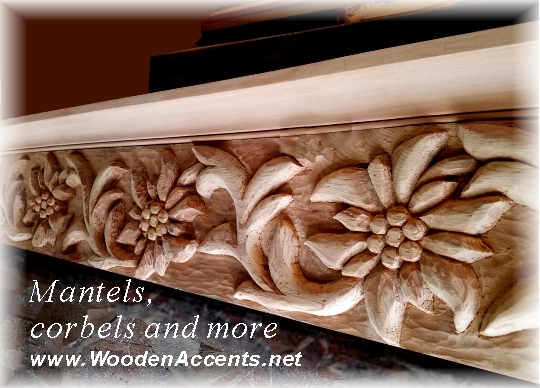 Don't hesitate to contact me to talk about any custom work. I will return your email or call the same day so we can discuss the project. I'm always ready tackle another commissioned work.
For custom projects provide me with a rough idea or sketch and dimensions and details we can discuss over the phone, email or contact form

Darek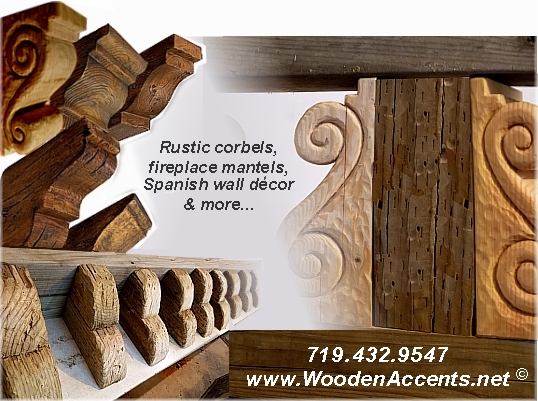 Dear guest don't forget to grab my 10% discount coupon for all types of wood carving
and furniture repair projects! Valid in Colorado Springs, Monument, Castle Rock, Castle Pines, Denver, Black Forest, Falcon, Fountain, Manitou Springs, Old Colorado City, also military discounts, senior discount.

Call to schedule a FREE on site estimate!

Call us to check if we have in stock the item that you're looking for!

719-432-9547


Copyright 2005 - . Wooden Accents - All rights reserved


custom wood carving, wooden furniture onlays, wooden jewelry, woodwork in Colorado Springs, wood carving in Colorado Springs, wood sculptures, wood carved door panels, woodworkers in Colorado, artist in Colorado, Polish artist in Colorado Springs. Wooden furniture, furniture restoration and repair in Colorado Springs, handmade wooden cabinet handles, wooden knobs, hand carved wooden corbels in Colorado Springs, hand carved wooden newel posts and balusters in Colorado. Decorative wall panels hand carved in Colorado Springs by Polish artist Darek Sokol. Wooden decorations handmade in Colorado Springs, wood and natural wall decor, wooden furniture refinishing in Colorado Springs, wooden sculpture repair in Colorado Springs. Wooden Accents offers furniture repair, refinishing, restoration, and reproductions of modern and antique styles. Fine custom furniture and cabinetry, fireplace mantels, doors, and architectural detailing. Hand carved wood signs for business and residential. Exceptional custom hand carved religious and secular wood sculpture and expert custom hand carving. Traditional hand woodcarver specializing in restoration and custom wood carving in Colorado Springs. Wooden Accents offers custom wood carving, wooden furniture onlays, wooden sculptures, wood carved door panels, wooden corbels and fireplace mantels, woodwork in Colorado Springs, wood carving in Colorado Springs, wooden finials, wooden newel posts and balusters. I specialize in Hand carved architectural Wood Carvings such as Corbels, Rosettes, Fireplace Surrounds, Millwork, mouldings, Appliques, Carved Column Capitals and Pilasters, Stair Parts, Urns, Door Panel, Carved Pillars, Carved Table Legs, Decorative Wood Ornaments and various other furniture components for cabinets and interior house furniture. Wooden Accents wood sculptures and hand-carved architectural embellishments are created in a studio located in Colorado Springs, Colorado. We hand carve incredibly detailed wood carvings which are incorporated into doors, fireplace mantels, wall panels, bar backs, carved corbels, and all types of furniture. We are primarily known for wood carved into detailed wildlife scenes. However, our gallery of carved wooden designs is incredibly diverse. We have designs that replicate antique wood furniture and many horse and cowboy themed designs. Signs that appear individually hand-crafted communicate to your customers that you are a one-of-a-kind business that sets high standards for itself. The personal touch and vintage feel suggested by a carved storefront sign provides an inviting sense of familiarity that draws customers in and makes them feel more at ease. Wooden Accents is the leading provider of carved signs in Colorado and we'd love an opportunity to show you the quality of our craft. Hand carved signs for business, community, and residential properties give your signage a classic appeal. Sand-carved wood signs in Colorado Springs, CO. We also offer high quality hand painted signage in Colorado Springs. TROPHY CARVINGS Darek can work from photos or just measurements to create a lifelike replica of your trophy catch. Rustic carved $15 per inch, Finished carved $20 per inch. $250 minimum order. FISH CARVINGS By combining traditional techniques with modern materials, these oversized carvings can be displayed indoors or outdoors. Available one or two sided in sizes from 2 to 8 feet. WOOD SIGNS Darek will work directly with you to create a unique sign for your home, business, or cottage. All designs quoted on request. Why are mantel shelves so popular? Fireplaces are an instant focal point in any room, and one thing that really draws attention is the mantel. With the modern, open-concept designs that so many people are leaning toward these days, full-sized mantels have a bit of competition when it comes to the stylish mantel shelf! These versatile pieces are available in a variety of sizes, carvings, and finishes. From clean and simple lines to more ornate and intricate patterns, we have a shelf to suite every home decor. Mantel shelves are easily mounted to the wall and appear to be "floating" above the hearth. This magical charm is one of the many reasons that our customers are choosing this technique to adorn a newly installed fireplace insert or give an existing feature a facelift. We have also found that many people use mantel shelves as freestanding wall displays for artwork and antiques, while others have paired them with a set of decorative corbels and fashioned unique headboards for their bedrooms! Additionally, fireplace mantel shelves make a terrific heat shield for those who prefer to mount their flat screen TVs over the hearth. You can see now why these versatile home decor pieces are trending! Can I customize my wood mantel shelf? Yes! Wooden Accents has an assortment of wood mantel shelf styles available, with or without decorative molding. They are crafted from quality materials with a patented U-Core design to prevent warping and cupping. We do offer a selection of our own specialty blend finishes for your mantel shelf, but should you choose to paint or stain this piece on your own, that is definitely an option. (We can also take care of priming your shelf for a nominal fee, which means less work for you!) What particular style of wood mantel shelf is trending right now? Honestly, the mantel shelves that you see on Wooden Accents are a collection of today's most popular styles. Which design you choose really depends on your personal taste and home decor. Many people prefer the rustic look of rough cut lumber, in which case we have the simple and affordable Emerson Rustic mantel shelf. For those who prefer to make a bolder statement, we also have log style mantels that can be customized to your specifications! What do I need for installation of my mantel shelf? Other than a few basic items from your toolbox, nothing! We've included the instructions, mounting board, and all of the necessary hardware to make installation of your wood mantel shelf a snap! Hand carved architectural and ornamental elements Wildlife, plant and floral carvings, Fine furniture, Custom cabinets, Built-in furniture, Mantels, Sculpture, Portraits, Design and drawings, Carved entrances, Moldings, Corbels, Decor, Brackets, Columns, Blocks, Plinths & Rosettes, Columns, Capitals, Pilasters, Corbels & Brackets, Decorative Stackable Paneling - TG3D, Finials, Keystones, Moldings, Crowns & Frieze, Onlays, Scrollwork, Swags & Medallions, Panels & Partitions, Themed Collections, Window & Door Trim in Colorado. Range Hoods, Blocks and Onlays, Cabinetry and Doors, Carved Panels, Columns and Newel Posts, Corbels and Plinths, Reproduction and Restoration Carvings, Whimsey, Custom Quotes For a quote on a completely custom piece please email us with your best estimate on the quantity, dimensions and preferred wood type. Also include any available photos so that we may accurately estimate the design time required. We prefer multiple angles in good light (with no flash if possible) so that we can have as much visual information on the piece as possible. If you don't have photos a sketch and description will do. Please tell us if you are seeking a piece that is as exact as possible or work that is simply inspired by the original as this will affect design costs and what type of source material we require to create a 3-D computer model. Once the quote is approved we will confirm all the final details of quantity, dimension, wood type etc. When the 3-D model is complete we will send multiple views of the 3D model for your approval before we carve your custom piece. Reproduction Sourcing period reproduction carvings can be a challenge in your home restoration process. Wooden Accents is proud to offer a reproduction service for carved ornament. Whether you are looking to duplicate a mantle, add period trim to your new kitchen remodel, or replace a damaged exterior applique, Wooden Accents can create custom pieces for you. We can reproduce molding, door frames, corner blocks, appliques, mantels, stair case risers, corbels, newel posts and more in most any wood. Once an order is created our designers use the latest technology and an experienced eye for detail to create digital models based on your samples or photos to create your period woodwork. Even incomplete or damaged pieces can be reproduced or modified to create new components in the style of your existing ornament. As part of an order, we provide computer renderings for your approval prior to carving to ensure your satisfaction. custom carved wooden signs, made from pine and cedar. Home signs, cabin signs, cottage signs, business signs, company signs, bar signs, restaurant signs, farm signs, personalized signs, and basically any type of sign that is made from wood. Handmade wooden benches, custom made, and perfect for quaint settings. Handmade wooden jewelry boxes, Handmade wooden headboards & footboards, king size beds, queen size beds, Handmade wooden coffee tables, Handmade wooden picture frames. Custom house painting and decorating in Colorado Springs, professional color consultations, free painting estimates, house painting and repainting, professional prep work will make a difference, European Painter also offers quality house painting, deck and wood siding staining, decorative concrete staining and much more, professional painting, painter, painters, faux painters, faux painting, decorative painting, murals, stencils, marbling, faux marble, woodgraining, faux techniques, faux paint, European painter, European painters, Darek Sokol, Dariusz Sokol, Polish artists, Polish artist, Polish painter, Venetian Plaster, faux leather finish, fresco, textures, Sokol, painters in Colorado, painters in Colorado Springs, painting contractors in Colorado. Faux painting, Venetian Plasters, murals, furniture refinishing and decorating, marbling, faux granite and marble kitchen counter tops, Tuscany Murals by European Painter - Colorado Springs, Christian Murals by European Painter, Stencils by European Painter, Italian Murals by European Painter - Colorado Springs, kids rooms and furniture decorating by European Painter, Murals by European Painter - Colorado Springs, Faux Marble, Marbling, Marbleizing by European Painter - Colorado Springs, Ceiling Murals by European Painter, Kids Murals by European Painter, Signs and Stencils by European Painter, guide to decorative painting on the Internet, Decorative Painting Studio specializing in Italian Plaster, Antique Restorations, Trompe L'Oeil, Painting Restoration and more, it is my mission to foster and promote excellence in restoration and conservation with a historically faithful preservation approach. Our knowledgeable tradespeople, artisans, scholars, and business professionals are experienced in the use of traditional methods and materials. They advocate for the integrity of the original design intent, the preservation of architectural fabric, and the coordination and cooperation of trades within a framework of owner/architect/contractor collaboration; painting Denver, Wall Murals Denver, Faux Finishing Denver, Denver Murals, decorative artist offers hand painted wall murals and decorative wall paintings, canvas murals, hand painted furniture, The Pikes Peak Chapter of the Society of Decorative Painters, decorative artisan specializing in Faux finishing, European plaster and custom decorative painting, European Painter serves Colorado Springs, Monument, Palmer Lake, Castle Rock, Castle Pines, Littleton, Highlands Ranch, Denver, Longmont, Parker, Franktown, Larkspur, Pueblo, Manitou Springs, Cascade, Woodland Park, Divide, Black Forest, Fountain, Peyton, Falcon. Over 20 years of experience in decorative painting. Serving Denver metro area and Colorado Springs. Call me for a free painting estimate (719) 432-9547 today.. Need a place to hide your personal belongings while adding a rustic touch to your home? Look no further! Dimensions: Shelf: L: About 24 inches W: 9 inches H: 4 inches Hidden compartment shelf: L: 20 1/2 inches W: 7 1/4 inches This item was hand crafted using pine wood to create a sturdy and durable shelf that will last you for many years to come! Pine wood was hand cut, assembled, and stained using a beautiful dark walnut color to add character and depth to any wall. The shelf was also coated in polyurethane to add a smooth and long lasting finish. This shelf is perfect for adding a rustic feel to any blank wall as well as organizing and displaying items in any room of your home such as the kitchen, living or family room, or your bedroom. The possibilities are endless! This unique wood floating shelf is not only for displaying items on your wall, but it also has a hidden compartment to hide your treasured and important items! A hidden wood shelf was added to the wall bracket of this item to allow you to conceal important items in your home in a place no one will think to look. Small items such as passports, money, keys, credit cards, handgun, etc. fit perfectly in the compartment. This floating shelf is ready to hang. A wood bracket is included (as shown in above pictures) that you can drill into to the stud of your wall to ensure easy and sturdy installment of this shelf. The shelf then slides onto the wall bracket. Hardware and instructions included. ***Note- This item is what as known as a diversion safe. It hides your items out of sight, but there is no locking mechanism included on or with the shelf. This item does not replace a gun safe. Buyer accepts all responsibility when purchasing the shelf, and the buyer accepts all responsibility for what the buyer wishes to store in the shelf***** Custom sizing and stain colors available by messaging shop owner. Showcase your own style and bring your favorite rooms to life with a wide assortment of fireplace mantel designs from the Wooden Accents. Complete your contemporary or classic decor with an impressive fireplace mainstay or design a special piece with a particular theme. The Wooden Accents brings years of experienced workmanship into all unique fireplace mantels and gives you exquisite, handcrafted pieces at affordable prices. These extraordinary mantels make a grandiose statement and highlight storied beauty of historic homes. Choose from top-quality hardwoods including oak, cherry, poplar and maple and make your specifications for each mantel to create your very own unique furniture piece. All mantels are handmade in Colorado Springs, CO and in-house manufacturing processes keeps costs low so you enjoy exquisite, customized mantelpieces without undue expense. Browse our extensive online catalog or see the video gallery to visualize your unique fireplace mantel. Order online at your convenience and have your mantel shipped free anywhere in the continental U.S. Red Oak Wood Fireplace Mantels Red oak is one of the most commonly used hardwoods in furniture manufacturing. The fact that red oak was used to make wagon wheels and railroad ties is a testament to its remarkable durability. We offer a wide selection of red oak fireplace mantels featuring the distinctive reddish-brown hue and prominent wood grain patterns that so many homeowners find appealing. Poplar Wood Fireplace Mantels Poplar is a fairly soft wood that is also less expensive than many other wood types. While poplar in its natural state is light in color and often contains brown or green streaks, it can be easily painted to achieve the desired finish. Our selection of poplar fireplace mantels offers an unbeatable combination of stability, aesthetic appeal and affordability. Maple Wood Fireplace Mantels Maple wood can be hard or soft, although even the softer variety is one of the hardest woods found in nature. When it comes to furniture making, maple offers the benefit of being extremely easy to work with. Homeowners love our maple fireplace mantels for their superior strength and durability, along with the alluring fine, straight grain patterns that distinguishes maple from other wood types. Cherry Wood Fireplace Mantels Our cherry wood mantels are always in high demand! Cherry wood features a rich reddish-brown color that tends to darken as it ages, which provides an antique look and feel that other woods cannot achieve. Cherry is also easy to stain/finish, making it an extremely adaptable wood for use in furniture making. You can enjoy the beauty of a cherry wood mantel in your home for years to come. How do I install a fireplace mantel? Mantel Installation After receiving your crated mantel follow these steps to install your mantel. Flip the crate on its side so that the bottom of the crate is exposed. All screws that secure the mantel to the crate are located here. All screws you see throughout the uncrating and installation process will need to be removed. A Square #2 drill bit will be ideal for the removal. After the removal of all the screws from the underside of the crate, you will need to remove the top of the crate. All of our crates are secured with staples on all six sides so this will require a little effort to remove the top of the crate. A crow bar or similar shaped object such as the back of a claw hammer are ideal to pry into the creases in the top layer of plywood. Once you have the top popped off the easy part of the installation begins. We have over 100 possible mantel configurations so each mantel is packaged a little different to maximize shipping efficiency. Most of the time the first thing you will see when you open the crate is the breast (the large upper part) of the mantel and two legs. Shelf style mantels without legs will be fully assembled and ready to install after removal from the crate. For full mantels with legs, cut the strapping that secures the legs to the breast of the mantel and carefully remove the three pieces from the crate. Be careful not to scrape the mantel parts against each other after they have been unstrapped. Remove the scribe molding from the back of the breast and sometimes the back of the legs. Once again, every screw you see needs to be removed from the mantel before installation. Do not attempt to install the mantel with any of the crating pieces attached to the mantel. Remove all screws. After you have removed all screws, place the breast portion of the mantel upside down on its shelf. Make sure you have a smooth, clean surface to do this and do not slide the mantel while on its shelf because debris may scratch the surface. Take the legs of the mantel and insert the appropriately assigned legs to each side of the mantel while it is upside down. The legs will fit so securely you may need to lightly tap on the feet of the mantel downward to the ground to firmly secure the legs to the breast. Once the mantel legs are secured to the breast, look for the predrilled screw holes in the back of the mantel where the legs and breast meet and where the returns and breast meet. Take the small silver screws that shipped with the mantel and use them to secure the portions of the mantel together. Once the mantel is assembled check out our videos below for different types of installation. Fireplace Mantel Dimensions The dimensions for each mantel vary. Every mantel we build is custom built to fit your fireplace. Therefore, there aren't many set dimensions except for dimensions like: shelf depth, breast height, leg width, leg depth, etc. If you can email a picture with measurements of your fireplace, we can draw up exact dimensions of the mantels we can build for you and what we recommend. If you see something you would like to change we can change it for you. ======================= Fireplace mantels are wooden framework that stand over fireplaces to refine their appearance and serve as a base to lay decorative items on the mantel. Fireplace mantels bring exquisite beauty to a living room. Getting creative with the look of a fireplace mantel can produce rewarding results without looking too out-of-the-box. As long as it fits the look of the room and fits your tastes, anything goes. Fireplace mantels are also a great setting to place artwork, a large picture, or hang a decorative piece over. Extra touches to room decor like these make a huge difference in the end. ======================= Mounting your new mantel is a fairly simple project. There are two basic ways to mount the beam depending on the construction of your fireplace. The first method is mounting a mantel where there will be stonework surrounding the fireplace. The second method covers mounting your beam by attaching it to a 2 by 4. Both methods are described below. We will be glad to answer any additional questions you may have about mounting your new mantel. Please feel free to email us with any further questions. Mounting a beam with stonework Mounting MantelsIf you are mounting a mantel where there will be stonework laid later, we recommend that you use steel straps on your mantel. We have steel straps available for mounting. Please inquire if you would like to purchase these from us. These straps are predrilled with holes every 2 inches. The steel straps are screwed to the back of the beam, with one hole extending below the beam and 2 to 3 holes extending above the beam. We suggest that you use one strap per 25 pounds (ie: 4 straps for a 100 pound beam). Locate the wood framing on the wall and attach straps using 3 to 3 1/2 inch screws. Hint: To keep from burying your mantel in the stone, you can build out the back of your mantel by adding a 2 by 8 board to it. Then you would attach the straps to the 2 by 8 and mount as described above. This allows more of the beam to protrude above your fireplace. The stonework then goes around the mounted mantel. Mounting on Brick or Drywall Mounting Mantels Brick or DrywallThe back of your beam should be notched out to fit on a 2 by 4. Your mantel can be ordered this way, if it has not been notched out already. Locate on your wall, where you want your mantel to rest and mount a 2 by 4 on the wall. The entire weight of the beam will be on the 2 by 4, so be sure that it is well secured. Place your mantel on the 2 by 4 and screw from the top of your mantel down into the 2 by 4. We suggest using 3 to 4 screws from the top and 2 screws from the bottom up. For brick or any masonry use mason screws plus construction glue to mount the 2 by 4 on the wall. ======================= Choose Us to Install Your Fireplace Mantel Some of our favorite projects are laying decorative trim and molding. Five Star Painting can install pre-fabricated moldings like you find at Home Depot or Lowe's or create custom trim specifically for you and your home. No matter what styles or tastes you have, we can help you achieve the look you want for your home. Check out our service page for more information about the molding services we provide. ======================== Fireplace Mantel Designs Fireplace mantels are functional design elements that add character and depth to your room while displaying your unique taste and style. A rustic fireplace mantel design can transform a living room. A fireplace mantel, whether you choose to have an entire surround or just the shelf mantel, could be just what the interior designer ordered for a dull living room. Here you can find custom hand carved fireplace mantel designs. These beautiful pieces are all hand carved from the best quality wood, and are beautifully crafted to fit your custom home decorating needs. Let Wooden Accents create the perfect fireplace mantel design for you. ============================ HAND-CARVED MANTEL WITH HAND-FORGED FIREPLACE SCREEN The client I built this hand-carved solid walnut mantel for wanted a very free-form, sculptural design, a centerpiece for their living room invoking nature, the forest. As with all projects, I hand select all the wood for color, grain, and quality for carving. After the client approves the scale drawing, I enlarge the drawing to full scale, making any design adjustments that didn't show on the scale drawing. The construction details and techniques are also planned during this stage. I do all my drawings by hand, because as you can see, you would never get this elaborate or creative design from a CAD system. The mantel is constructed paying close attention to matching the grain. Then the real fun begins. First I roughly shape the piece, and then step by step refine the details until I am happy with everything. Then I start sanding, to refine the carving, smoothing it out so that it feels almost fluid to the touch. The client also wanted a non-toxic finish so I used a hand-rubbed oil finish. It really brought out the beauty of the wood. The full scale drawing of the iron work was done at the same time as the carved mantel but the pattern needed to be transferred to a piece of plywood because I am working with red-hot iron. As the pieces are completed they need to be fit and matched to the pattern, and a paper pattern would burn from the heat. You can see the scorched wood on my pattern in the video below. Here I am forging the leaves.